Wednesday, August 8, 2007
Posted by

Telugu Film News
at 8/08/2007 06:35:00 PM
1 comments


Links to this post
Sunday, August 5, 2007
Exclusive Coverage of 54th Filmfare South Indian Awards


Amitab, Chiranjeevi, Mammootty, AR Rehman, Nagarjuna, Venkatesh, Aishwarya Rai etc attended the awards night...


The 54th Fair One Filmfare Awards 2006 was presented in a grand function arranged in HITEX convention center on the night of 14 August. This function is graced by Amitab Bachchan, Chiranjeevi, Mammootty, Nagarjuna, Venkatesh, Krishnam Raju, Vijay, Puneet Raj Kumar, Ram Charan Teja, Ravi Teja, Abhishek Bachchan, Arjun Rampal, Aishwarya Rai, Tabu, Trisha, Nayana Tara, Ramya Krishna, Bhavana, Sandhya, AR Rehman, Devi Sri Prasad, SP Balasubramanyam, Jesudas, Chitra, P Suseela etc.
Deepak (Sampangi fame) and Archana played the hosts for the evening.
The following celebs sizzled in this evening with their dances performances.


| | | |
| --- | --- | --- |
| S No | Performer | Items |
| 1 | Vineet | Brahmamokkate (classical) |
| 2 | Meenakshi | Manasa (Munna) & Muddante Cheda (Jagadam) |
| 3 | Devi Sri Prasad | Voilence (Jagadam), Good Morning (SDZ) & Jagadeka (SDZ) |
| 4 | Archana | Sivaji, Milamila (Super) & Ippatikinka (Pokiri) |
| 5 | Kamna Jetmalani | Doledole (Pokiri) & Rakhi (Rakhi) |
| 6 | Kaniha | Tamil songs |
| 7 | Neetu Chandra | Neel Samundar (Guru) |
| 8 | Mamata Mohandas | Akaleste (SDZ) & 36-24-36 (Jagadam) |
| 9 | Simran | Tamil songs |
Here are the awards presented in various languages
Telugu

S No

Category

Winner

1

Best Film

Bommarillu

2

Best actor

Mahesh Babu (Pokiri)

3

Best actress

Genelia (Bommarillu)

4

Best director

Puri Jagan (Pokiri)

5

Best Music Director

Devi Sri Prasad (Bommarillu)

6

Best cinematographer

S Gopal Reddy (Sri Ramadasu)

7

Best male playback singer

SP Balasubramanyam (Sri Ramadasu)

8

Best famele playback singer

Mamata Mohandas (Rakhi)

9

Best lyricist

Veturi (Godavari)

10

Best actor in supporting role

Sai Kumar (Samanyudu)

11

Best actress in supporting role

Sandhya (Annavaram)

12

Best choreographer

Lawrence (Style)

13

Best male debut

Ram (Devadasu)

14

Best female debut

Ileana (Devadasu)

Tamil

S No

Category

Winner

1

Best Film

Veyil

2

Best actor

Ajith

3

Best actress

Bhavana

4

Best director

Vasanthabalan

5

Best music director

AR Rehman

6

Best male playback singer

Gana Ulganathan

7

Best famele playback singer

Shriya Ghoshal

8

Best actor in supporting role

Pasupathi

9

Best actress in supporting role

Saranya

10

Best lyricist

Na Muthukumar

Kannada

S No

Category

Winner

1

Best Film

Mungaru Male

2

Best actor

Puneeth Raj Kumar

3

Best actress

Ramya

4

Best director

Indrajith Lokesh

5

Best music director

Mano Murthy

6

Best male playback singer

Hemanth

7

Best famele playback singer

Chitra

8

Best actor in supporting role

Rangayana Raghu

9

Best actress in supporting role

Leelavathi

10

Best lyricist

K Kalyan

Malayalam

S No

Category

Winner

1

Best Film

Notebook

2

Best actor

Mammootty

3

Best actress

Padmapriya

4

Best director

Roshan Andrews

5

Best music director

Ravindran

6

Best male playback singer

KJ Yesudas

7

Best famele playback singer

Chitra

8

Best actor in supporting role

Jagathi Sreekumar

9

Best actress in supporting role

Roma

10

Best lyricist

Gireesh Puttencherry

Special awards

S No

Category

Winner

1

Legend

Chiranjeevi

2

Legend

Mammootty

3

Lifetime achievement

Krishnam Raju

4

Lifetime achievement

P Susheela
Photo Gallery...
Posted by

Telugu Film News
at 8/05/2007 09:10:00 AM
0 comments


Links to this post
Saturday, August 4, 2007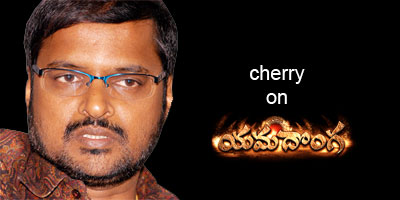 Cherry
who made his debut as a producer with
Okkadunnadu
is now jointly producing NTR - Rajamouli combination film
Yamadonga
along with Urmila Gangaraju. Cherry at Prasad Labs where the rerecording of
Yamadonga
is taking place. Here are the excerpts of Cherry's interview about Yamadonga -
Tell us about how Yamadonga project happened?
Rajamouli called us one day and said that he would be directing a film for us on his banner Viswamitra creations. He wanted us to be the producers of his first venture on Viswamitra banner. He established this banner to make his own films and also to encourage new talent. We worried initially because it is very difficult to come up with a storyline that justifies the hype created because it is coming from a combination that delivered record-breaking Simhadri.
Rajamouli then went on a holiday and returned with the subject of a socio-fantasy. The main thread is similar to that of Yamagola - hero going to hell and returning to the earth. But he added lot of different aspects to it. The treatment is going to be completely different.
I would like to thank Rajamouli for making the producer of this film. He observed my passion for movies and ambition to produce big ventures and offered this film to me.
Yamadonga is touted as the costliest film ever made in Andhra Pradesh. What cost it so much?
1. Yamalokam set:
The Yamalokam set for this film is erected in the biggest studio floor in Asia situated in Ramoji Film City. The biggest set in RFC was erected for Vaaji song in Sivaji and it occupied only 60% of the floor. The Yamalokam set occupied the 100% of the floor. It took around 2 months and 300 simultaneous workers to erect the set. It also took the same amount of time to dismantle it. We used 15 generators at a time to light up with floor. It took 4 days to set the lighting to that floor. I would like to give the entire credit to the art director Anand Sai and the art department of RFC.
2. Other sets:
Except for one song, all other songs are shot in indoor or outdoor sets. These sets are also designed in grand style.
3. Remunerations:
This film sports actors like NTR and Mohan Babu. There are seven heroines (Priyamani, Mamata Mohandas, Navaneet Kaur, Preethi Jingyani, Archana, Rambha and Khushboo) in this film. The other character artists are of top standards. It costs a lot to get quality cast. Rajamouli is the highest paid director in Telugu film industry.
4. The making:
Yamadonga is the costliest Telugu film ever done. The production of this film took on massive scale.
Tell us about the camera work?
Senthil Kumar used the best available equipment to shoot this film. Since Yamalokam set demands a great amount of lighting, we procured almost all available lighting equipment from Hyderanad movie infrastructure providers. We had to borrow some of the lighting equipment from Chennai too.
What is the response of the music?
Yamadonga is unarguably the biggest music album from the combination of NTR-Rajamouli-Keeravani. It is the biggest audio hit in the career of NTR. Generally music lovers like a few songs in any album. But Yamadonga album got unanimous appreciation for all songs including Yamalokam bit songs. Valli (Vel Records) has done a fabulous job of distributing the album to the remotest areas of AP. The recording quality of Cds and cassettes is also excellent. The special booklet given inside album is a big hit. I have seen parents buying multiple copies of audio because each kid wants to have one for himself.
What about rerecording?
Keeravani started the work on 2 July and will complete it on 7 August. It is taking over a month. Keeravani is immensely enjoying rerecording as it is a challenging task to work for a socio-fantasy. Rerecording will be highlight of the film.
Tell us about graphics in this film?
Graphics work plays a very vital role because it is a socio fantasy. We employed various e-fx companies. Adel Edeli - a renowned 3D animator from Iran - did the 3-D work for the exterior of Yamalokam. EFX studio did the major work (around 90%) of the graphics part. They have been working on the film from April to August. Rajamouli did online editing and made sure that graphics work is done simultaneously along with the shooting.
Tell us about working with Mohan Babu?
We had a terrific experience working with a senior actor like Mohan Babu. We heard a lot of things about his earlier that he is a short-tempered man. But we realized that he is a very cool person to work with. He is very punctual on sets and is extremely professional. He has no short temper and threw no tantrums. He is a very nice person.
There is lot of buzz about NTR dances in this film?
NTR's new look helped him a lot. His dances are amazing. There are only one or two heroes like Allu Arjun in Telugu film industry who can perform superb dances. He will become number one dancer in Telugu film industry with his steps in Nachore song. Only dance master could do such kinds of steps. NTR does not need any rehearsals for dances. But for the steps in Nachore, he had to undergo a few rehearsals. The steps are so complicated and unique. His weight reduction also helped him a big time.
What about the rumors that Prabhas did the role of Viswamitra in Yamadonga?
It is partly true. Prabhas did the role of Viswamitra. But not for Yamadonga film. When Rajamouli wanted to design the logo of Viswamitra Creations, he needed a model for Viswamitra photo. He requested Prabhas as his physique is very good. Prabhas obliged for a photo shoot. The designer cut the physique of Prabhas and inserted in the logo of Viswamitra creations logo.
How many days did it take to shoot?
We started the shooting on 2 January and completed it by the end of July. It took us 148 working days spread over a span of seven months. We exposed around 2 lakhs feet of negative. This is very less compared to the theme of socio-fantasy and the making standards. We shot most of the film indoors by erecting massive sets in Ramoji Film City, Annapurna studios and Rama Naidu studios (Nanakram Guda).
When is Yamadonga is going to be censored?
It will be done on 8 August.
How many prints it is releasing with?
We are planning for 350+ prints released all over the globe on 15 August.
What is the final outcome of your debut film Okkadunnadu?
It is a satisfactory film for me financially. I made some money. The distributors broke even. The film started off in a great style, but collections dropped after a few weeks. It was the biggest grosser for Gopichand at that time. It was a brave attempt to make such flicks and I got great kick doing that project.
What are your future projects?
I have 3 projects lined up with crazy combinations. I will announce the details once these are confirmed.
Posted by

Telugu Film News
at 8/04/2007 10:10:00 PM
0 comments


Links to this post
Genre:
Biography/History
Banner:
Anil Kapoor Films Company
Cast:
Darshan Jariwala, Akshaye Khanna, Shefali Shah & Bhoomika Chawla
Cinematography:
David Macdonald
Art:
Nitin Desai
Music:
Piyush Kanojia
Editor:
Sreekar Prasad
Costume:
Sujata Sharma
Screenplay - director:
Feroz Abbas Khan
Producer:
Anil Kapoor
Release date:
3 August 2007
Review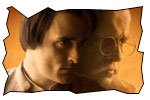 Story
This story is about Harilal Gandhi, eldest son of Mahatma Gandhi and how the father of nation ignored his own family and his son while fighting for independence. Harilal, aims to become a barrister and wants to study in England. But Gandhi's fight for Indian independence stands like a major obstacle in achieving his goal. Over a period of time, Harilal treads wrong paths and gets attracted towards wrong deed. The tag of Gandhi becomes unbearable for Harilal. He converts his religion into Muslim and reconverts to Hinduism later. He steals his company money to do the trade of foreign cloths ironically, when his father is campaigning vigorously about swadeshi cloths.
Actors performances
The performances of all characters in this film are exemplary. Darshan Jariwala is excellent as Gandhi. He resembles Gandhiji a lot. Akshaye Khanna is a revelation in this film. You feel for his character. Shefali Shah's work is first rate and she excelled in the scenes involving her son. Bhumika Chawla is awesome as Harilal's wife.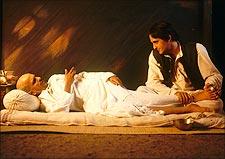 Story - Screenplay - direction

The director Feroz Abbas Khan did a brave attempt to bring the most sensitive and vulnerable side of Gandhiji to the big screen on a big scale. But while doing the basic framework, the director has overlooked the holistic perspective and concentrated only on the relationship between Gandhi and Harilal. He did not even mention anything about Gandhiji's other three sons. If anybody who does not know Gandhiji so well watch this film, they would end up believing that Gandhiji has only one son called Harilal. Director extracted great performance from his cast. His direction is very good. He could bring out genuine emotions and transport them to the hearts of audiences very well. The way he dealt the mother - son episodes in this film speaks volumes about his ability.
Other departments

Cinematography of the film is superb. Music is fine. Editing is good. The make-up department should be commended for a fine work. Costumes deserve special mention. Artwork suited the pre-independence look. Anil Kapoor deserves a pat on his back for his fine taste in making cinemas.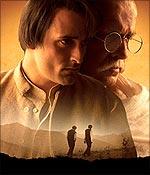 Analysis
We have been reading about Gandhiji since our school days. But this film gives a different account about the personal tragedy of Gandhiji as he fought for nation by devoting more time to the country. Barring certain issues the director overlooked at script level, this film is a must watch for its performances and intense moments. You end out stepping out of the theater with emotion-filled heart.
Cinema Gola Rating :

Posted by

Telugu Film News
at 8/04/2007 10:01:00 PM
0 comments


Links to this post